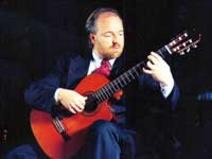 The guitarist, composer, arranger and bandleader Kai Heumann lives close to Cologne in Germany. After his training in classical, flamenco and Jazz guitar, he had studied jazz guitar at the Munich Guitar Institute (MGI), Branch Cologne.
He made further studies with Garry Fewell (Berkley University, USA), in Santiago (Chile) with the guitarist Pancho Cabrera and in Buenos Aires (Argentina) with the two legends of Argentine music: the songwriter u. composers Raul Carnota (Argentine folklore) and the guitarist Aníbal Arias (Tango - Anibal Troilo, Sexteto Mayor etc.).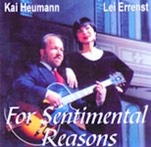 His collaboration with the Chinese singer Zheng Lei (Lei Errenst) led him to the Chinese Jazz (Shanghai Jazz) but also to traditional Chinese music. 
As a solo guitarist Kai Heumann played in 1999 the Misa Criolla by Ariel Ramirez, under the musical direction of the conductor Thomas Honickel.
In 2001 Kai Heumann founded the 8-member Salsa Band "Tumbao" and toured successfully through Germany and neighboring countries with the singer Jorge Oliva as frontman, who had been five times the winner of the Cuban Son festivals.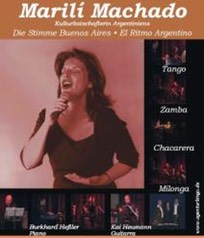 In 2002 and 2003 Kai accompanied on guitar Argentine singer and cultural ambassador of Argentina Marilí Machado on her tour through Germany and Italy. 
In May 2003 he went to Argentina, where they recorded a CD together, and performed together live in the TV studio of the popular at the National Argentina Broadcasting canal "Canal 5" in Buenos Aires. 
In Buenos Aires Kai Heumann also performed with Horacio Avilano (Luis Salinas).
Kai Heumann is a specialist in Latin American music, both live and in the studio. He also plays other stringed instruments, such as Trés Cubano, Tiple, Cuatro Venezolano, Charango, Cavaquinho, Bass, Pipa, Mandolin, etc. 
In addition to his meanwhile 30-year duo work with Argentine singer Sergio Mansilla, he also plays Brazilian music, Salsa and Son Cubano with the band "Tumbao" and Argentine Folklore with "Grupo Horizonte". "Grupo Horizonte" celebrated success in 2010 with their tribute to the great Mercedes Sosa, who passed away in November 2009.
In 2003 Kai Heumann founded his "Proyecto Guitarra Latina", which caused a sensation from the start. It is a formation of Master Artists of South American music, whose members come from Cuba, Argentina, Brazil, El Salvador and Germany.
With this formation as a base Kai Heumann introduced the "GRAN SHOW LATINO" with additional musicians, Cuban dancers from the famous "El Tropicana Show" (Havana), a samba percussion group and a Cuban actress. 
In February 2006 the "Gran Show Latino" was the main act at the biggest international music fair - the "Musikmesse Frankfurt".
During the years 2007 and 2008 Kai Heumann toured with the "Proyecto Guitarra Latina" and "Gran Show Latino". 
Pancho Amat (Cuba), the virtuoso Trés player (the Trés is a Cuban guitar), picked up the piece "Cumbia del Ciclista", composed by Kai, and they both recorded it.
From 2008 to today Kai Heumann participated in following music projects: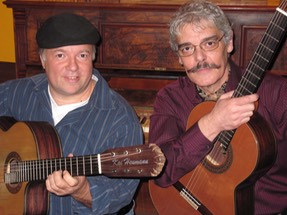 He also performed with charismatic tango singer, composer and guitarist Ramón Regueira.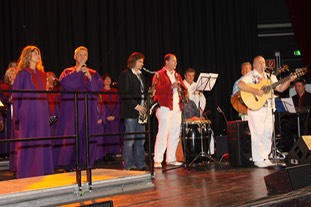 His composition "Quiero Cantar" (Salsa Gospel) was performed with the gospel choir "Living Gospel", and "Höhner" saxophonist Jens Streifling with his Salsa Band "Tumbao"  on 01/11/2009 in Troisdorf.
As part of Fingerstyle- and other guitar concerts Kai Heumann played together with Stephen Bennett, Michael Fix, Frank Vignola and Vinny Raniolo and jammed with John Jorgenson, Werner Lämmerhirt, Joe Robinson and many others.

Together with the "Joe Robinson Trio" the 3 Magic Guitars (Joscho Stephan, Richard Smith and Kai Heumann) had been the major acts at the "International Guitar week" in Wuppertal 2010.  
More concerts together with the virtuous and finest Gypsy Swing guitarist Joscho Stephan followed.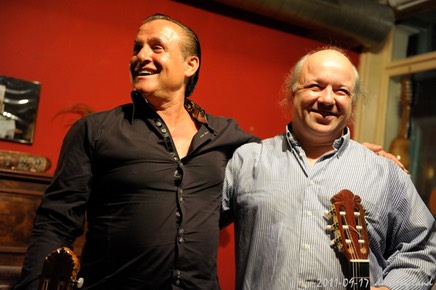 The love for Gypsy Swing, Flamenco and Latin music formed the guitar duo Mike Reinhardt and Kai Heumann. Together they light a rousing fireworks of music that is fueled by improvisation, rhythm and joy of playing. 
Photo © Dirk Engeland
Kai played with the José Feliciano Show Band and as a support act for José Feliciano in Vienna.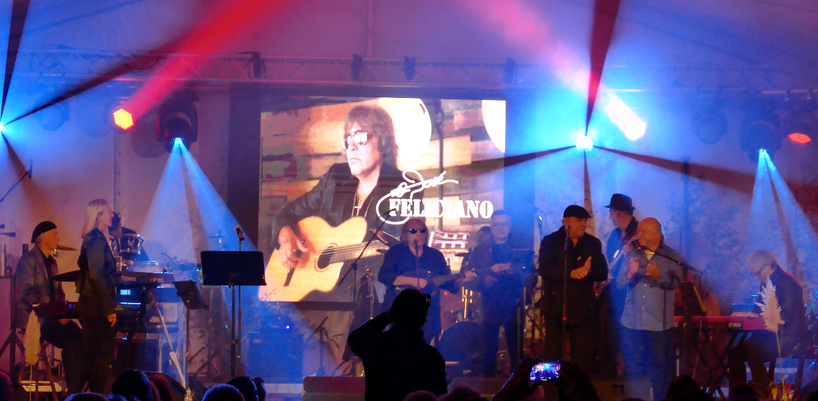 Gypsy Jazz Virtuoso Stochelo Rosenberg was always (and still is) Kai's musical hero. It was just pur fun and pleasure to perform with him and Paulus Schäfer: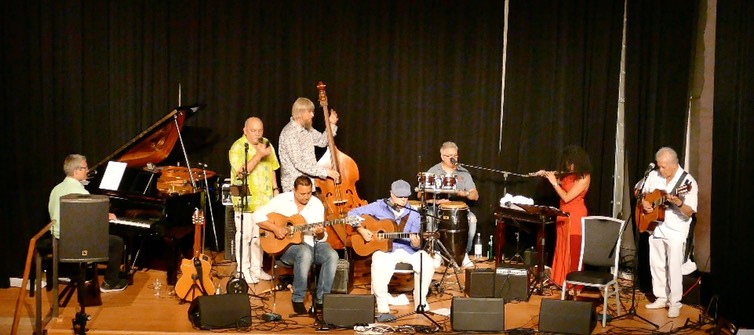 30.06.2019 Kai Heumann's Proyecto Guitarra Latina & Paulus Schäfer