Experience the Adventure of Playing the Guitar
Lessons also available on Skype/Zoom/ Facetime
Forget the normal guitar lessons and let me take you on an adventureous journey of playing the guitar. I will help you to rediscover the guitar. Like a good boy scout I know as a professional musician every shortcut through the jungle of music. 


Kai's method is sensationally simple and effective, his passion for the guitar and the music is absolutely contagious.
From the beginning songs and tunes are played and students learn playfully how to compose and improvise.
Music is a living thing and should be played as such. Think of music as a language. We improvise all day in our language.
There is absolutely no pressure of learning or practicing. Only those students who are enthusiastic about the guitar like the exercises and have a better motivation to learn more!
How about playing your favorite songs/ instrumentals on guitar or even compose your own?
Each student is different - hence the instruction should be tailored to their specific needs.
Do you want to explore the exciting world of music production? I can help you to set up a homestudio and teach you how to work with different recording software or give advice on studio equipment.
Check out our Homepage for Guitarworshops.
------------------------------------------------------------------------------------------
Accompaniment of (current) Songs: Rock, Pop, Classical, Jazz, Latin, Folk
Learn the melody with tablature, sheet music or on sight / by ear
The concept of the guitar lessons is to understand playing the guitar within a short time. You will learn how to build chords and scales even without reading music
Learn the tricks of the professionals (economic game)
You will also learn to improvise or/ and compose
Taught by Kai Heumann, a professional guitarist, composer, sound engineer and instrumental teacher.
---------------
In addition to the guitar Kai Heumann teaches many other stringed instruments such as the Tres Cubano  ukulele, charango, cuatro,(Cuban guitar) and other Latin American instruments.
Kai Heumann teaches a full lesson (45 min). During the school holidays in NRW there will be no classes. 
A sample lesson costs 45, - €, then the student can decide whether he / she would like to be informed.
Prices guitar lessons for adults with a regular, weekly appointment:
Individual lessons:
125, - € á 45 minutes per week of the month
Duo 
85, - € á 45 minutes per week of the month
Small group instruction 3 - 4 people
75, - € á 45 minutes per week of the month
Group lessons from 5 persons:
65, - € á 45 minutes a month
Price guitar lessons for adults with irregular date (the date by agreement):
45, - € á 45 min
from 5 hrs discounted package price on request
further information at:
Kai Heumann
Alter Markt 13
42897 Remscheid - Lennep
Mobile: 0049 - (0) 160-94 93 0853
e-mail: info(at)gitarrenzentrum(dot)com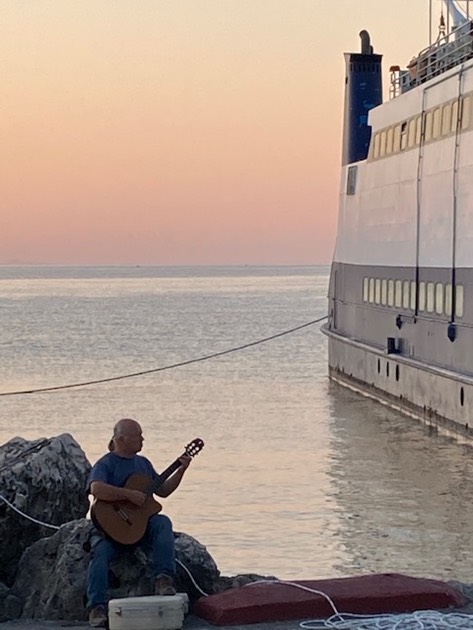 Instrumentalpädagoge Kai Heumann
Photo:© Dirk Engeland